THUNDER BAY BASKETEERS

"Baskets of Hope"
Assisting Women in New Beginnings
In the fall of 2010, the Community of Thunder Bay was added as a new Chapter of the Basketeers program.
Adopting and filling an ordinary Rubbermaid basket with personal and household items may not seem like a big deal but for the group of women living in Women Shelters throughout Ontario this act of kindness and generosity can give them the sense that somebody out there is cheering them on!
Basketeers started with a small group of individuals in the Greater Toronto area who wanted to assist women who were in transition. The group wanted to do something positive and empowering to offer hope and new beginnings for women that were forced to leave their homes due to domestic abuse and violence.
Various Shelters had been saying that it was fairly easy to find groups willing to buy or sponsor Christmas gifts for children, but their mothers were often forgotten.
So in 2000 with a mere 14 baskets, The Basketeers program was launched!
Since the official launch in 2000, the program has grown. Chapters are located in the Greater Toronto area, Stratford, York, Hamilton, Brantford, Ottawa, Guelph, Prince Edward County, Penticton, Durham, Montreal and Thunder Bay!
The issue of family violence is quite significant and with 51% of women* in Canada having experienced at least one incident of physical and/or sexual violence, the need for various types of support is great.
"Statistics tell us that approximately 360,000 children each year* are exposed to domestic violence and that one in two women are murdered by a current or former partner each week in Canada".
Just think, in the time that it takes you to brew a cup of tea, 3 women will have been assaulted* by their partner! The numbers are staggering and unacceptable!
Basketeers Thunder Bay has partnered with the Royal LePage Shelter Foundation to help assist and support women in their transition.
By adopting and filling a Rubbermaid Basket with items, you help to support women as they begin their new life outside of the Shelter. Each kitchen utensil,towel, chocolate or even scented soap offers a gift of hope and encouragement to each survivor as they enter a new phase of their lives.
What does it cost to fill a basket? That depends on you and your shopping skills. The average cost is between $ 200 to $ 250. If you are unable to fill a basket on your own, find a friend or colleague who is willing to contribute to the cause.
Last year we had many companies, groups of friends and family pool their funds and adopt one or more baskets. By supporting these women during this transitional period, they will hopefully NOT return to their abuser and as a result, feel stronger for their children.
Themed items for your basket can include a hair dryer, curling iron, towels, shower curtain, a pair of slippers and toiletry items for a "Bath & Beauty" basket, or a set of pajamas, a book and a night light for a "Sweet Dreams" themed basket. The possibilities are endless!
All we ask is that you include a list of the items that have been included within the basket and that the basket be wrapped in clear cellophane and topped with a bow!
With the help of some very generous donations and support from the people in our City, the Thunder Bay Basketeers group has been able to raise a total of 208 baskets in the first 4 years of its campaign. That is over $40,000 in items. These baskets were then divided between the two local women shelters, Faye Peterson and Beendigan Inc.
We are encouraging individuals, businesses, groups of friends, churches, and Service Clubs to ADOPT A BASKET. If you would like to get involved, please call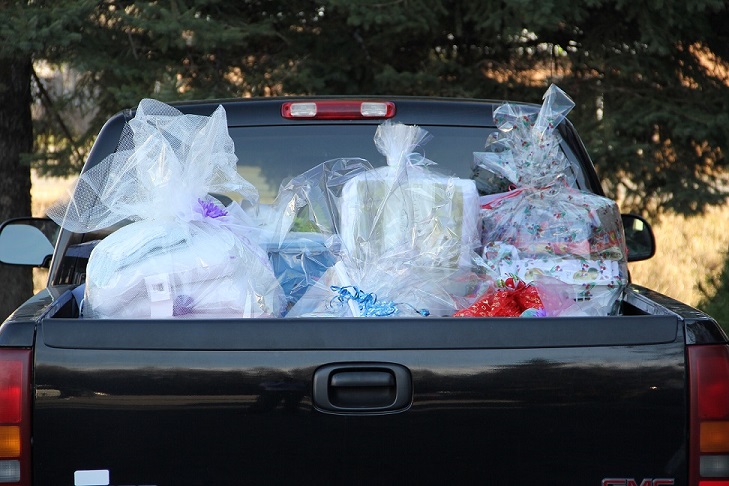 How Do I Get Started !
I think the best place to start if you are new to the Basketeers program, is by checking out our beautiful Display Baseket! Here you will get an overall idea of just what your basket will look like.
Choose your Theme! Or Create your Own !
Themes could include:

"Beauty and the Bath": blow dryer, curling iron, towels, shower curtain, toiletries and slippers

"Sweet Dreams": PJ's, slippers, single sheet set, reading lamp, book, and toiletries

"Coffee Time": Coffee maker, kettle, coffee mugs, tea towels, kitchen utensils, fry pan

"Dress for Success": Purse, day planner, iron, clock radio, bus tokens, umbrella

"Kitchen": Utensils, cook book, kettle, hand mixer, fry pan, baking dishes, spices, glasses

"Mix it up": Include a bit of every room

Note that a clock radio is multi- purpose, one can listen to music, have an alarm to wake up to & it tells the time.

An umbrella would make someone smile if it was raining.

Keep in mind it's the holidays and remember to include something luxurious like a candle, chocolates or bath products as a special personal gift.

Every year we are asked if the baskets need to be decorated (and I might add that there are a few groups that try to draw each other into the competitive decorating challenge), but there are no rules, have fun, and understand that we are happy if you just fill the basket and our recipients are always grateful.
Please include a list of items contained in the basket on the outside so that the outreach worker can match the needs of the client with the gift.
What does it cost to fill a basket? That depends on you and your shopping skills. The average this year was about $150.00 -$200.00. If you are unable to fill a basket on your own ask a friend or colleague who is willing to contribute to the cause. In fact a group of women in one office held a competition as to which team could create the most beautiful (and most useful) basket by scouting sales all summer.
To adopt a basket, simply register on the website
www.basketeers.ca
or call Sari at
623-5011 (Royal LePage Lannon Realty, Brokerage office), so that we have your name for the count and the thank you list.
You then purchase a laundry basket and begin. The website will provide you with a suggested shopping list of items that have proven useful as well as the drop-off date and location. We request a printed list of the contents be attached to each basket on the outside which will assist the shelters in matching a basket with a woman in need.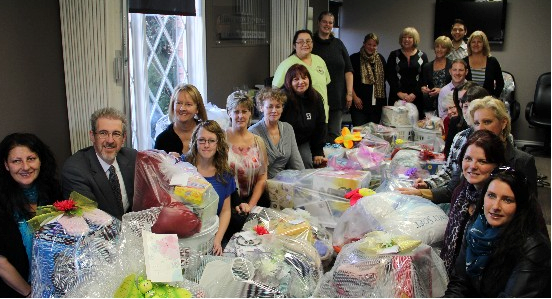 ** Statistics provided by the Royal LePage Shelter Foundation